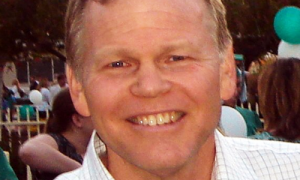 John Nielsen
Former NAMI Ventura Board President
Receiving a phone call from a hospital emergency room is usually not a good thing. When we were called by a kind ER doctor telling us our son was in a catatonic state and needed us we had no idea what lay ahead, then or in the future. The diagnosis of Schizophrenia was a shock. Over a period of months our son became a different person. A young man our family struggled to understand, support and relate to. In a way he had become the son and brother we didn't know who had a disease we knew nothing about.
When I began researching our son's illness I was startled by some facts published by the National Institute of Mental Health (NIMH):
1 in 4 adults in the U.S. will experience a mental health disorder in any given year.
1 in 17 adults are diagnosed with a serious and persistent mental illness such as Schizophrenia, Bipolar Disorder, Obsessive Compulsive Disorder or Borderline Personality Disorder (aka, Unstable Personality Disorder).
1 in 10 children live with a serious mental or emotional disorder.
Adults living with a serious mental illness die, on average, 25 years earlier than other Americans, largely due to treatable medical conditions.
Do you know anyone who has been touched by a mental health disorder?
Our son's first episode took place while he was a student living in Hawaii and the symptoms were textbook – the FBI, local police, even foreign governments were out to do him harm. However, due to effective medications and wonderful doctors our son was stabilized fairly quickly. Thankfully, as we left Queens Medical Center we were given a brochure telling us about NAMI, The National Alliance on Mental Illness.
NAMI has been a lifesaver for both our son and our family. Over the past few years our family has benefited tremendously from NAMI's support, encouragement and educational programs, especially the "Family to Family" class.
NAMI also provides our son with an opportunity to use his "lived experiences" to be an advocate by being a presenter for NAMI's "In Our Own Voice" public awareness program. His speaking engagements take place at universities, hospitals and community organizations. This program also allows him to educate the community about the need to "stomp out" the stigma and stereotypes associated with mental illness.
I'm amazed when I think that we at NAMI provide all our programs and services to the community at no cost. I believe these programs are vital to the health and wellbeing of our community because they keep families together, help keep people off the streets, help prevent suicide and help with recovery.
That's why I'm asking you to join me in helping expand our no-cost programs and services by getting us to $200,000 by Walk Day.
Sincerely,
John Nielsen
President, NAMI Ventura County